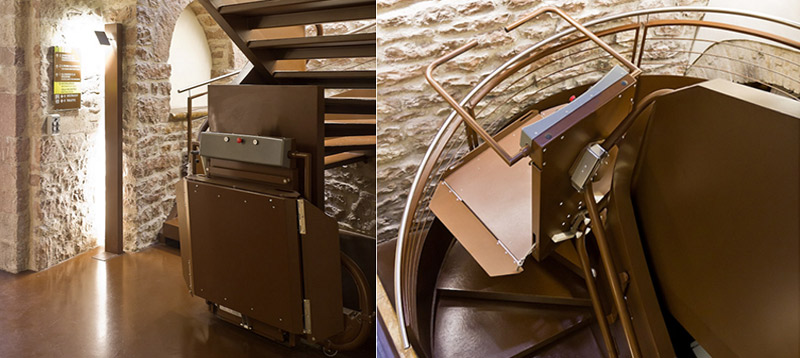 Slim platform is the most compact iclined lifting platform in the market
Quite and comfortable
SLIM is an inclined lifting platform for curved stairs and changes in inclination, suitable for installation in small and narrow spaces. Unlike other similar platforms, SLIM does not have an embodied scrolling unit, thus minimizing the space it occupies. It is extremely quiet and offers an exceptionally easy rolling. With its simple, modern and functional design, SLIM is perfectly embodied in your space architecture.
There is a variety of color's choice to incorporate the SLIM in your installation's space surrounding
Priority has been given to safety features which are the highest in their category
SLIM stairlift is supplied with smooth start/stop Inverter System for comfortable and pleasant rolling.
it is supplied with external controls on all stop positions as well as control on the platform, giving the user an absolute autonomy.
It is provided with fully automatic folding and semi-automating folding mechanism.
It can serve a standing, seated passenger or wheel chair.
its specifications make it suitable for installation in both internal and external stairs
These and many other, are the features of comfort, safety and fitting of a SLIM stairlift in your space. Contacting us for SLIM stairlift , we will be able to guide you through all of your queries. We can also arrange a meeting in your space with no charge.
ΒΙΝΤΕΟ