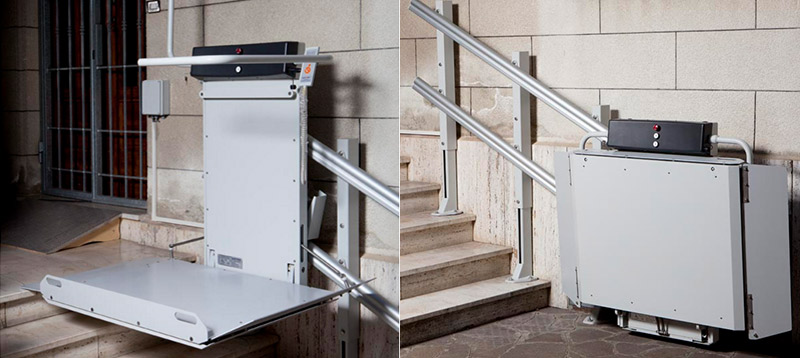 LOGIC is a platform stairlift for straight-line stairs
It is installed in indoor and outdoor spaces thanks to its stainless aluminum rails, waterproof wiring and special polyesteric painting of the platform. Operate with rechargeable batteries thus being functional even in case of power failure or voltage drop.
It is a fully automatic platform with automatic folding mechanism and automatic arms for full autonomy. Thanks to its delicate and elegant design, you have the minimum of space charge from the rail and the platform at parking position.

The holding of the stairlift can either be direct to the wall or indirect with the help of supporting pillars. Its installation is possible even in low-roof spaces thanks to the downwards arms-folding system when the platform is locked (folded).
It consists of wireless call/send buttons in parking/stop positions. LOGIC stairlift is constructed in full compliance with all European Directives and Legislation. These and many others, are the comfort, safety and adjustment features of LOGIC stairlift for your space.
Contacting us for LOGIC , we will be able to guide you through all of your queries. We can also arrange a meeting in your space with no charge.
ΒΙΝΤΕΟ